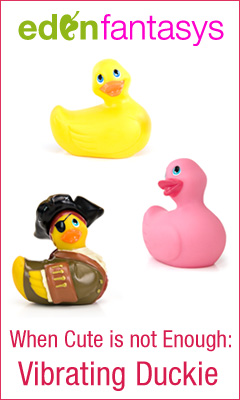 Edenfantasys has all kinds of "toys" for Momma
I find this little guy adorable :)
I rub my duckie – discreet massager
This little guy is 5 inches long and 5 inches tall.He's completely waterproof and he floats! Requires 2 AA batteries.
Look,he has friends!! (and they have style!)
Paris duckie – massager
Bondage duckie – discreet massager

This one is my favorite! (He even comes with handcuffs!)
I have been compensated for this review in the form of an
Edenfantasys
gift card. Opinions expressed above are solely my own.